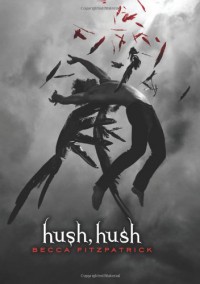 Publication Date: Available Now from Simon and Schuster.
Source: Purchased Copy
A SACRED OATH
A FALLEN ANGEL
A FORBIDDEN LOVE
Hush Hush is another book I've had on my radar for quite a while, it has been recommended to me by quite a few people who know I have a bit of an obsession with YA series.
Hush Hush then centres around Nora, a 16 year old high school student who is, against her wishes, teamed up with new boy Patch for a school project. Patch is dark and mysterious (of course, and yay) and seems to be able to get into her head. He also starts turning up a lot wherever Nora is and strange events begin to occur that has Nora wondering if she is going slightly insane. Patch of course has a secret….
Thoroughly enjoyed this one – Fallen Angels are popular lately in YA and this is an excellent example of when that particular story is done really really well. Great characters (Both Nora and Patch are intriguing in their own way) a terrific supporting cast and some beautifully done descriptive prose makes this one pop.
One thing I particularly liked about Hush Hush was that it was not in a rush to get anywhere. Becca Fitzpatrick takes the time to give her characters background, depth and feeling, hooking you into their world and making you care. Still, there is always plenty going on even if we don't get to the crux of the matter until later in the story. The end is then one of hectic thrilling excitement that works brilliantly.
Overall then a scintillating read. I'm very happy that I ordered the whole series together. Because I'm looking forward very much to seeing what is going to happen next.
Happy Reading Folks