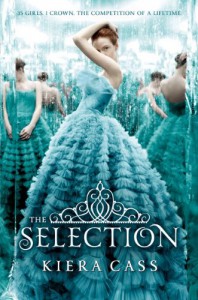 Publication Date: Available Now from HarperCollins UK Childrens
Source: Netgalley
For thirty-five girls, the Selection is the chance of a lifetime. The opportunity to escape the life laid out for them since birth. To be swept up in a world of glittering gowns and priceless jewels. To live in a palace and compete for the heart of gorgeous Prince Maxon.
But for America Singer, being Selected is a nightmare.
SO The Selection then. I am on a bit of a YA kick at the moment and this was one I had on my radar so when I saw it being offered via netgalley it was really perfect timing.
I thoroughly enjoyed this – a fast, engaging read, one I read mostly over the course of today, we follow America Singer, who lives in a world divided into Castes – she is neither the lowest nor the highest, a musician who struggles alongside the rest of her family to put food on the table and who is in love with the boy next door. Despite that though, she reluctantly bows to pressure and enters the Selection for a chance to marry the Prince and her whole life changes.
I think I liked this one so much because it appealed to the girl in me who used to adore fairytales, the traditional ones like Cinderella and Sleeping Beauty – a world of beautiful girls and handsome Princes. Ok so realistically speaking "The Selection" is more like an episode of The Bachelor on acid but is very addictive with some great characters.
America appealed to me because she was so beautifully obnoxious in comparison to the other girls – not in a bad way, just with a no nonsense approach and a pragmatic reasoning. She does this because by doing so her family gets money – but this is after all at its heart a love story and watching her realise that perhaps there is more to the shallow prince than meets the eye was a whole lot of fun.
Cue the boyfriend turning up of course, which gives us an interesting angle (especially for me as I REALLy did not like him, no I don't know why – perhaps its that fairytale girl in me again rooting for the Prince) and there are of course the other girls to contend with, all in all this is an interesting mix of Romance and dystopia. It is not all rainbows and kittens – the palace is not the safest of places with rebel attacks always an issue (a plot point that in this instalment was actually quite low key, hints and a couple of action scenes which give the promise of greater understanding to come) and America walks the line between keeping a sense of herself and allowing herself to change, the author doing a great job of giving her depth.
Quite a light read overall but really nicely done with some interesting themes woven into the story, some characters I really got behind and a really terrific construction that will make you want to continue following America's life. I would definitely recommend fans of YA give it a go and I'm really looking forward to book two.
Happy Reading Folks!